I hope that you find this is a useful page to see all of the interesting things that we have been up to. We are learning lots and lots and creating some wonderful memories along the way!
Miss G. Steele
World Book Day
We celebrated World Book Day by dressing up as a character from a book. Every single person came in dressed up, excited to tell each other about their choice and reasons. Throughout the day we participated in various games and activities including creating class reading bunting and a character description.
Mother's Day
Here at Triangle we are very fortunate to have a supportive and involved PTFA group that help to organise and run events. This week they held a 'Mother's Day Secret Shop'. Our children were able to go and choose a present, help to wrap it and then write a special message on a tag.
Snow Days
We were lucky enough to enjoy our wonderful surroundings covered by the snow last week. Here are some photographs of us enjoying making some memories building snowmen, creating snow angels and beating Miss Steele in a snowball fight!
Chinese New Year
As part of our 'Where in the world is Barnaby Bear?' topic we held an in-school workshop where we learnt a Chinese dance, painted ceramic plates, made and ate Chinese dumplings, made window decorations and created origami dog cards. Parents, grandparents and family friends were invited and we had so much fun learning about the aspects of a Chinese new year celebration. The day ended with everyone receiving traditional red envelopes. Thank-you to all those involved in creating such a wonderful, informative and memorable day and to Mr Roberts (class volunteer) for some of these fantastic photos.
Shape
In Mathematics we have begun our unit on shapes. This week we are learning about 2-D shapes and next week we will be moving onto 3-D shapes. We are learning their names as well as their properties. in the photographs we are playing 'what shape am I?'. This involved one person choosing a shape and their partner thinking of questions relating to the number of straight sides, curved sides, number of vertices, etc to try and work out which shape they had hidden. It was harder than we thought! By the end of the sessions we had improved our vocabulary but also the style of questioning that we used.
English
In our English lessons we have been learning how to use a dictionary to help us with our spellings. We know to use the alphabet to find the first letter, then the second letter and so on until we have found the word that we are looking for. We have also used a thesaurus to help us improve some of the words that we use within our writing. This also helped us to create fantastic word banks for our season and rose poems.
Statistics
We have been learning about, interpreting and creating tally charts, pictograms and bar graphs. Our main focus has been our traffic survey where three groups monitored the traffic in three different places around Triangle. We found that the most frequent colour that passed was black followed by silver. We also found that more cars were travelling into Triangle after lunch that coming out.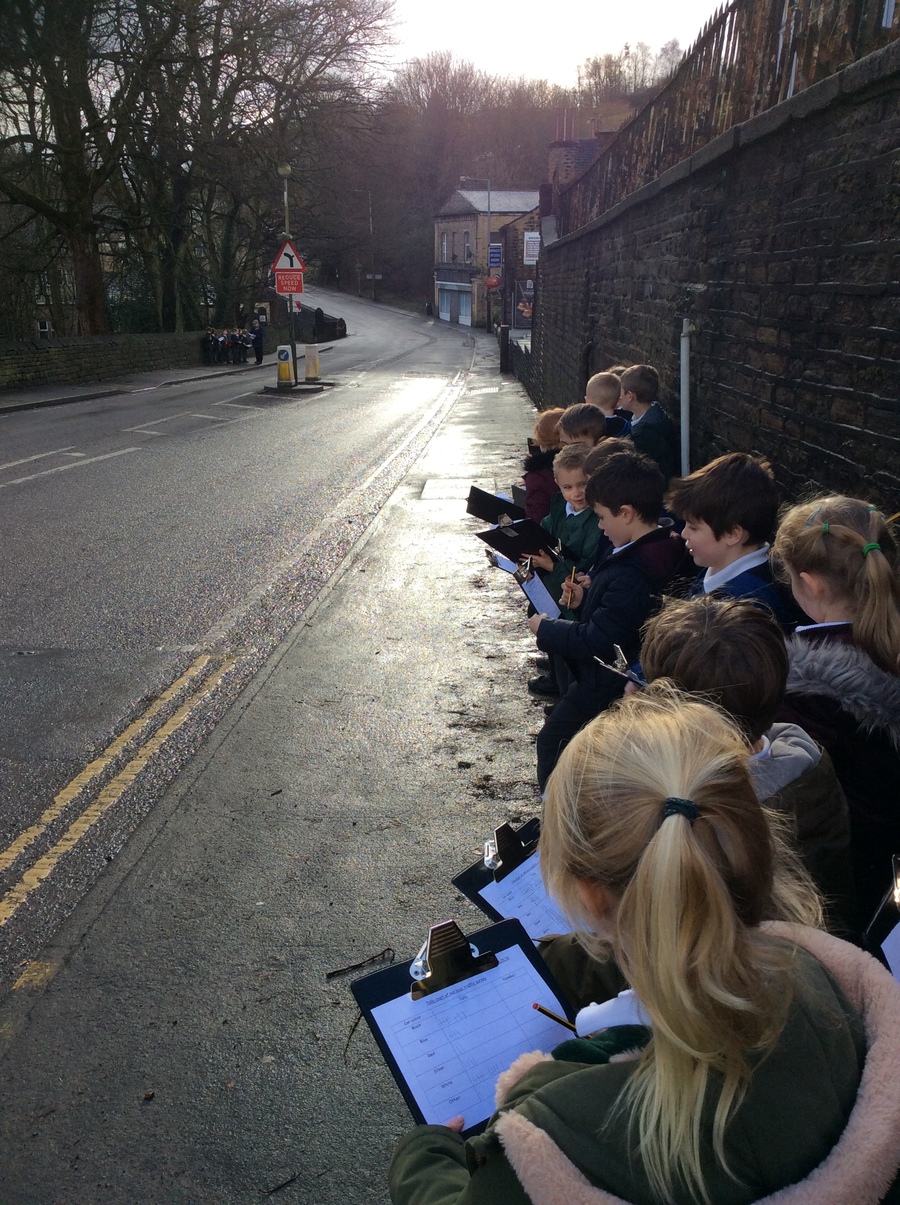 Christmas
We have had so much fun leading up to Christmas and utilised all of the learning opportunities. In English we have written letters to Father Christmas, written sets of instructions for the items that we have made and sent our parents and carers hand-written invitations to our snowman dance that we created in PE. In Maths we have used our reasoning and problem solving skills in challenges and investigations, using our number facts and calculations. In Art and Design we have sewn felt stockings, made tactile textile wreaths, made Christmas tree cards and salt-dough decorations as presents for our parents and carers. In and among this we have had our Infant Nativity, our carol concert at St Peter's Church, our Infant Christmas party and Christmas dinner day. Highlights have included spending time with our friends, singing Stargazer and a visit from Father Christmas. He had read and replied to all of our letters, bringing special cards and a present for each child.
Children in Need
We raised money for the charity on Friday 17th November 2017, raising close to £200! Here we are covering Pudsey in our coins.
Road Safety Training
This half-term we have been learning about how to keep ourselves safe, with this week's focus on road safety. We have been on a local walk focusing on how to cross the roads safely, what to do if there are parked cars and practising the Green Cross Code. In class we have completed the Calderdale Council pedestrian scheme which has involved learning about the different ways to cross a road. The ones that we focused on were zebra, puffin, school crossing patrol, pedestrian island, subway and footbridge. We also learnt about wearing bright colours and reflective strips so we can be seen while walking, types of junctions and keeping ourselves safe while travelling inside a car.
We are pleased to say that 100% of the class passed the scheme and they received their certificates to take home.
Christian Values Day
This week we held our Christian Values Day. The focus was on our core values of friendship, forgiveness and trust. During the day we visited different classrooms where we completed an activity or a workshop based upon a bible message. The children learned about respect, kindness and compassion and produced fantastic models, a play, some cards and artwork around looking after our world and everything in it.
Class 4 Maths Games
This week we received a very special invite from the pupils in Year 4. They had spent time creating Maths games for us so we went to see them in the Juniors. We had a brilliant afternoon playing number bond, times tables and addition and subtraction games. The children in Class 2 were that thrilled that they spent time writing them thank-you letters and delivered them upstairs themselves.
PE
Throughout this half-term we have been learning about indoor games, these have included bench-ball, skittle-ball and dodge-ball as well a a few other lesser known games. During the sessions we have used games as a warm up, to learn new skills (including attacking and defending) as well as to keep fit and have lots of fun! During the last two weeks we have also introduced some yoga. We are using this to help us stretch out and be more flexible as well as to help us keep calm and focused.
Cross Country Run
We took part in the inter-house cross country run today. Every member of Class 2 crossed the finish line, meaning each achieved a house point for their team. Well done!
Julia Donaldson
For our 'same author, different stories' unit we have been studying the work of Julia Donaldson. Throughout the unit we have read a range of her books and performed some of her poems and songs. We even used the school i Pads to answer the questions we had about her as an author. We have also been on a Gruffalo treasure hunt around school, found similarities and differences within her work and learnt about rhyme. Our unit was rounded off by making a BIG portion of Gruffalo crumble. The instructions that we had were rubbish so we decided to write our own. As you can see from the photos we thoroughly enjoyed ourselves.
Class 2 Qualify as 'GROSSOLOGISTS'!!
As part of out Human Body topic we went to Eureka for a 'Gross Lab Workshop'. We found out about various bodily functions, although we won't go into too much detail on here! The focus of the day was learning through investigations.We also had time during the day to explore the museum and the nature trail as well as the playground. Great fun and learning was had by all!
The Human Body
Our Science topic for this half-term is all about the body. Today we have been learning about the skeleton. We learnt the skeleton dance. This taught us about the body, how it is attached, the names of some of the bones and our left and right. We had fun learning and dancing, Miss Steele joined in too!
Reading Buddies
We have teamed up with Class 4 this year. As a class we are very good readers and are developing our fluency and comprehension further by reading weekly with our Class 4 reading buddy. Here we are on our first week together!