International Links
Mandy Bear (and Mr Davies & Miss Mills) Visit our friends in Sri Lanka!
We have maintained links with Badi ud Din Girls' College in Kandy, Sri Lanka for 13 years now. Our latest project is based on teacher research, but we have received funding for our staff to visit the school - which couldn't be more different from Triangle - and spend time with the staff and children. Here is a brief 'diary' of our visit.
Day 1
The journey here was very long and took all weekend! This is partly because time in Sri Lanka is five and a half hours ahead of the UK. We were up bright and early on Monday morning though, as school begins here at 7.30!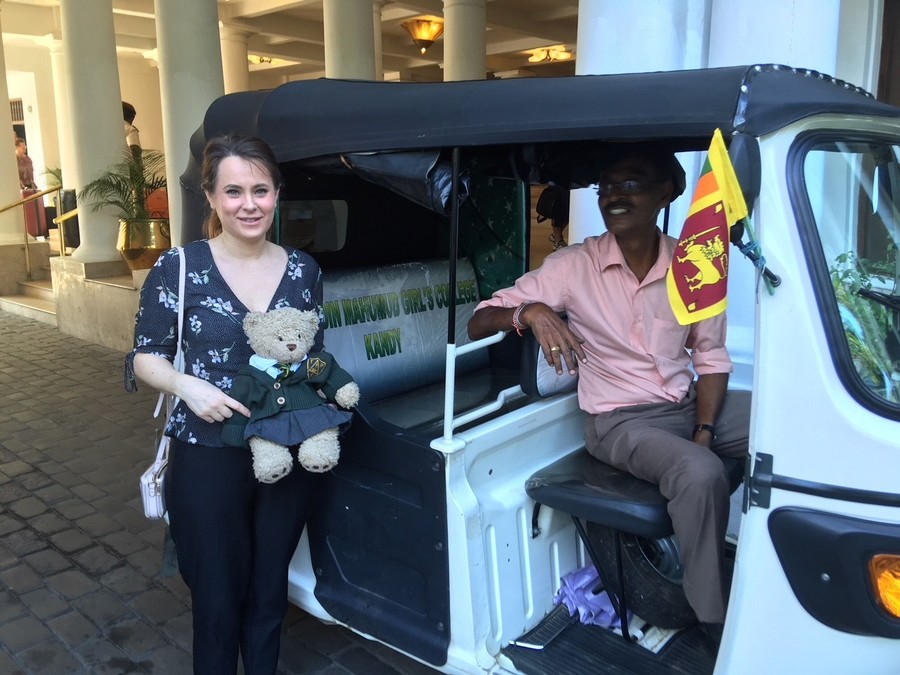 We were picked up by the school's own tuk tuk!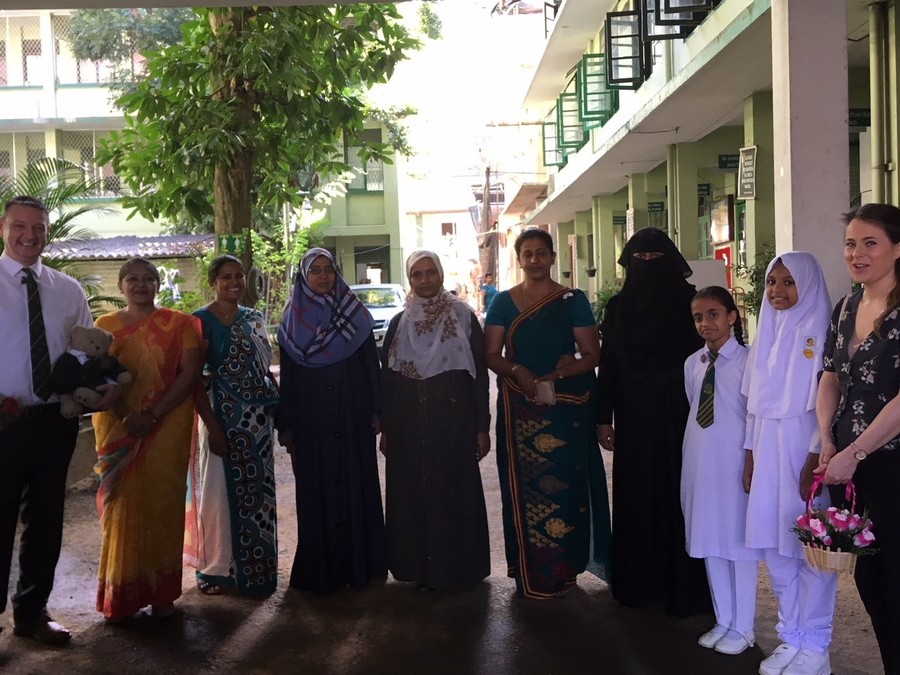 As always, we received a very warm welcome at the school gates.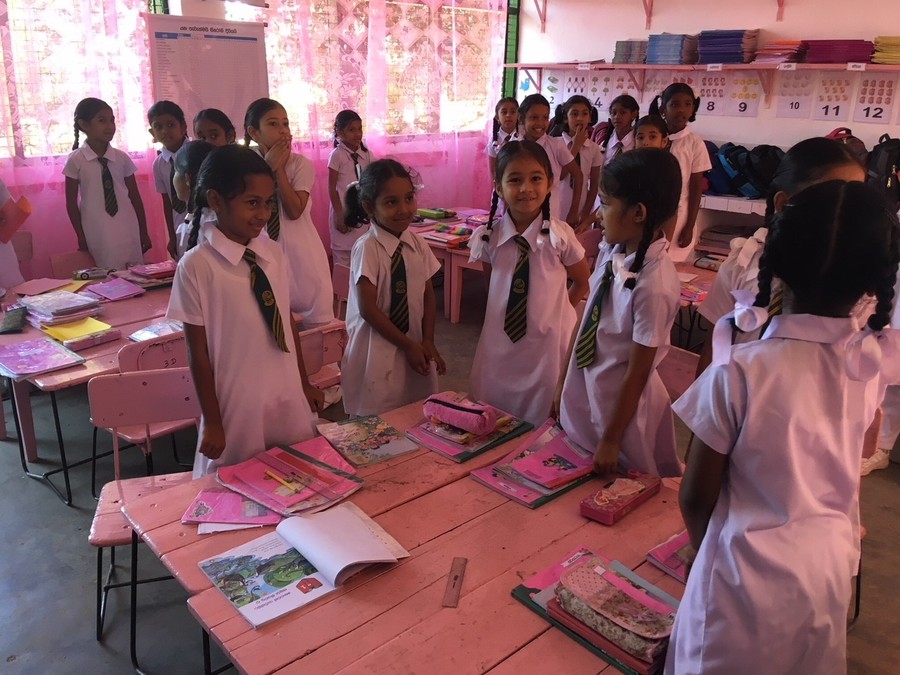 We spent most of the day visiting classes in the lower school. The school has more than 2000 pupils and it educates primary and secondary age children. This class is Grade 3 (Year 3). Even the youngest children can speak some English and they enjoyed singing us songs. From Grade 3 some of the children have subjects like science and Geography taught in English.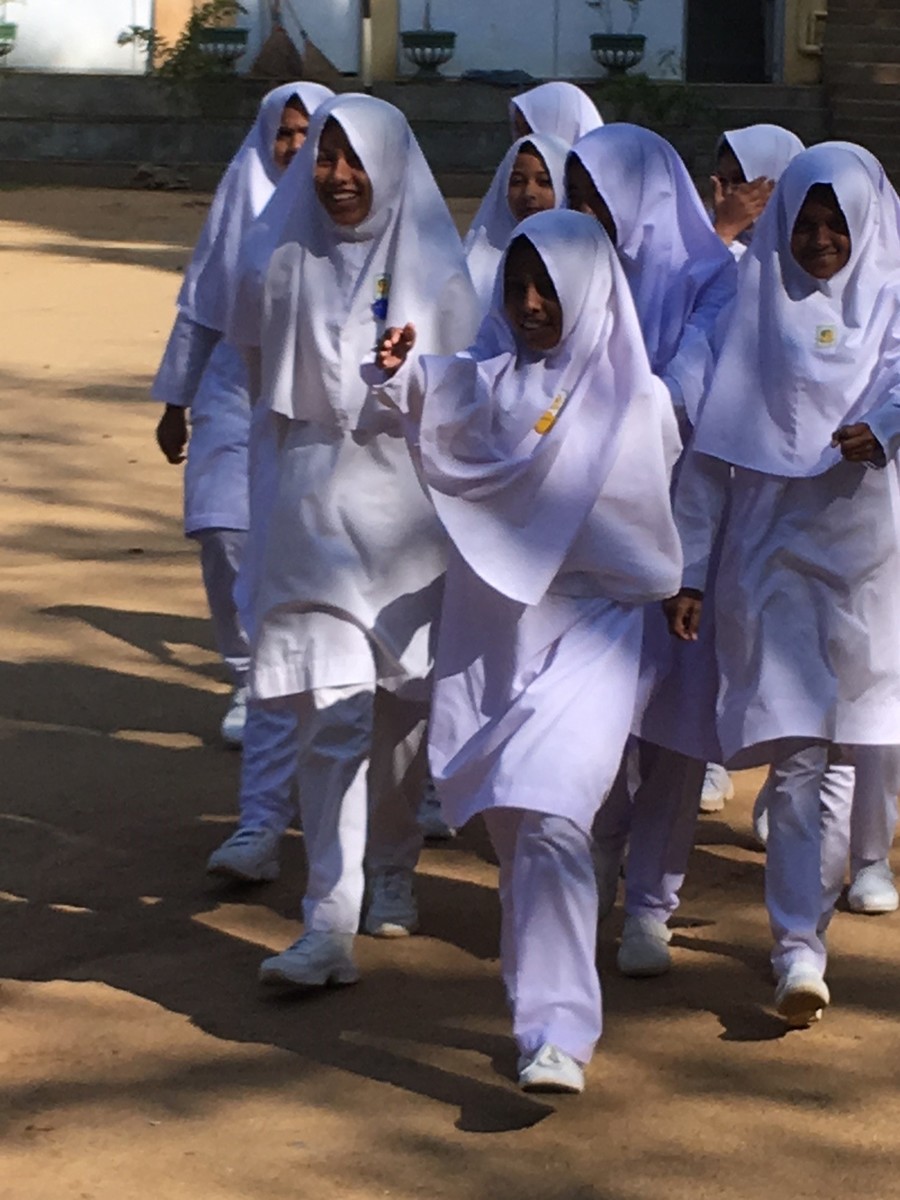 The only outdoor space the main school has is smaller than our playground. These girls from the upper school are practicing marching for an inter house sports day competition.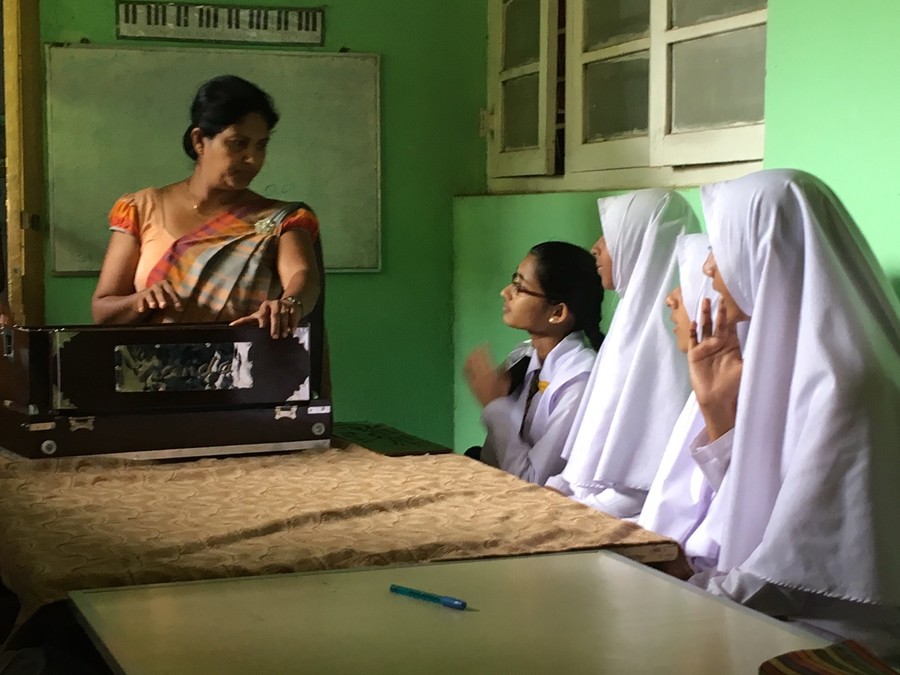 Towards the end of the day some of the pupils sang some traditional songs for us. They were accompanied by a teacher on a traditional Indian instrument called a harmonium. Year 6 saw these recently at their visit to a Sikh Temple.
Here's a few more photos from the day. As you can see, they really like to decorate spaces with positive messages and artwork (these were done by the pupils). The school is undergoing some significant construction, including a new principle's (headteacher's) house!! I don't think the health and safety in England would let them build like this in our country, as the pupils have to walk right past the part built classrooms. Children here are really keen to learn and take a great pride in their work.
Day 2
This was a national holiday, so it gave us all a chance to see a little bit of this beautiful country. Here's Miss Mills enjoying a drink from a 'king coconut' and then experiencing a ride on an elephant!
Day 3
We were back in schools again today. We began with an early morning start at another school called Trinity. It is a private boys school that feels very different to our partner school. It is set in lovely grounds and has its own swimming pool and chapel. Here is a photo of the chapel with the beautiful views of the mountains in the background. You can just see a giant white statue of Buddha on one of the peaks.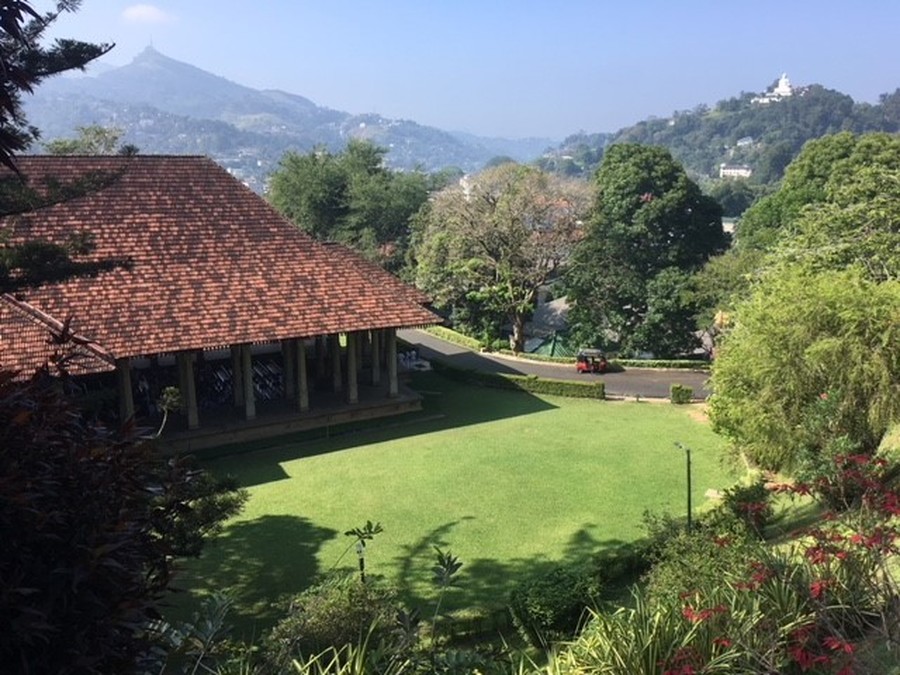 After a lovely tour of Trinity we returned to Badi ud Din Girls' College where the children put on a show that included songs, dance, poetry and speeches. I then spoke to the children, before presenting the school's principle with a few gifts from Yorkshire. It was also nice for Mandy Bear to catch up with a friend we left at Badi ud Din 6 years ago.
Day 4
Today we spent the day visiting another school - St Antony's Girls' College. When we arrived we were marched up to the school by the band. We spent time doing workshops with the children based on 'zero hunger' as well as looking at some traditional craft workshops that the children had prepared for us. We were also entertained by groups of children, including some of the older girls performing traditional dances.
In the evening we had a meeting about the project before enjoying a farewell meal with staff from the schools we had visited. As you can see, we dressed in traditional clothing for the meal!
Day 5
Another early start saw us saying farewell to Kandy as we needed to by in the capital city Colombo ready for our flight home. We traveled by train and enjoyed the spectacular views on the way.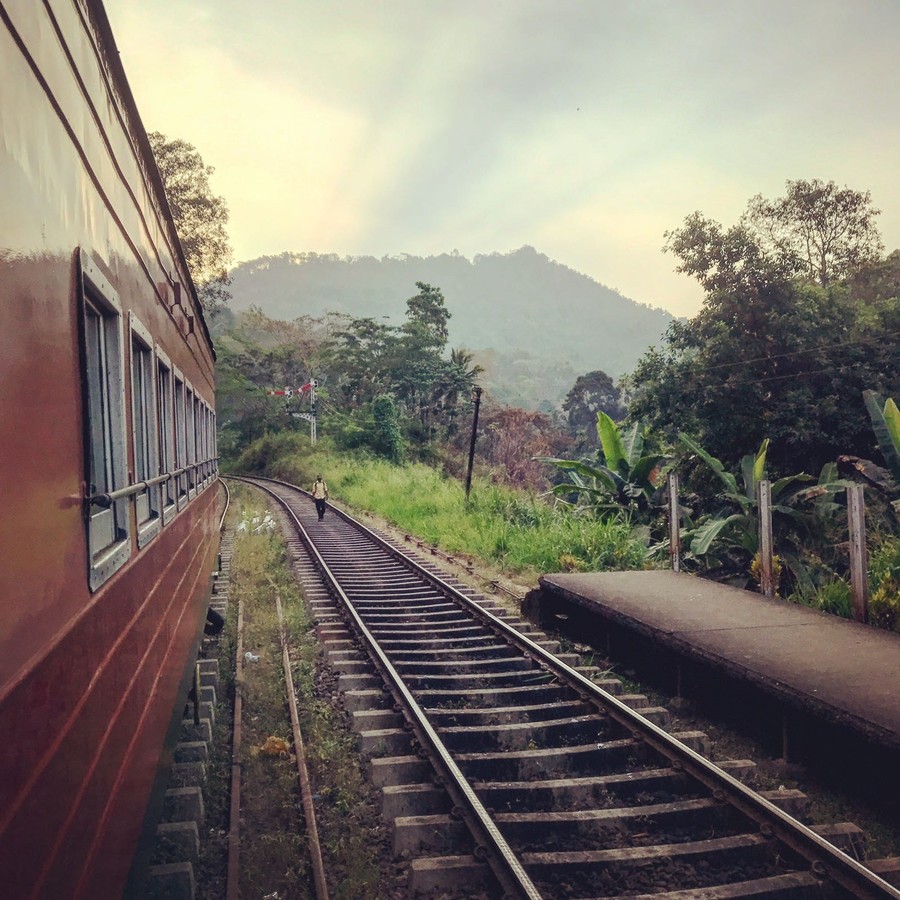 Well what an experience this has been. We have worked with staff from 3 other Calderdale Schools and their partner schools in Kandy. Wherever we went we were made to feel very welcome - often being asked to light a ceremonial oil lamp or invited to people's homes. The children are very keen to try hard at school and get a good education as well as talk to us about school in England. We look forward to inviting a member of staff from Badi ud Din back to Yorkshire in the next school year.
Our Current European Project
We are currently in a project with schools from around Europe based upon the rights of a child. One of the main products of the project is a blog which you can access by clicking HERE
European Project: Visit to Poland
Mrs Barlow and Miss Radcliffe are going to visit Poland! We will keep a diary of our trip here.
Day 1:
We have arrived safely after a VERY long day's travelling! The weather in Poland is very much the same as in England at the moment.
This is morning we have been treated to a lovely assembly full of dancing and singing. Our favourite part was the dancing with flags. We have also been working on the song that we are here to sort out; it is sounding amazing so far and we can't wait to share it with you all!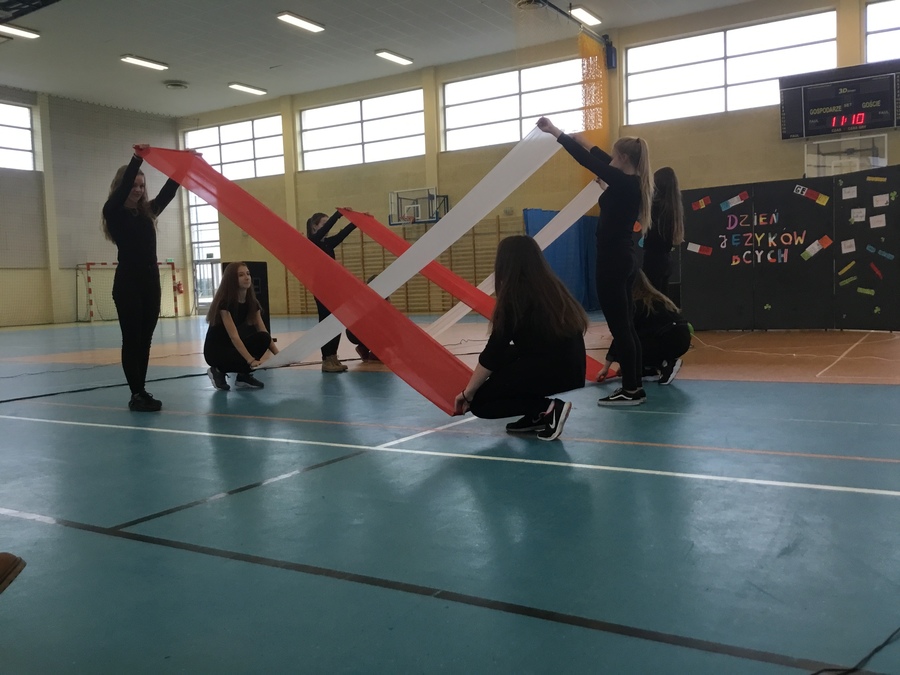 Day 2:
Today has been a very busy day for us. We have been going into lots of classrooms telling the children all about our school and doing some songs and games. The children go to different classrooms for each different lesson, and change every 45 minutes! They do not wear uniform, so they are finding it interesting to see our school jumper, tie and book bag and to see how smart Mandy Bear is in her uniform!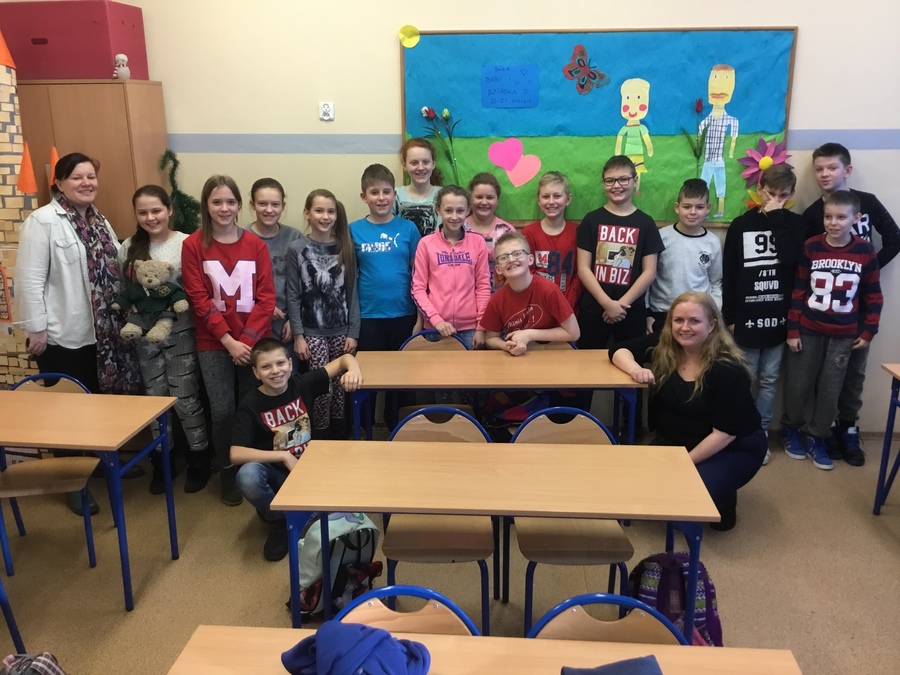 Day 3:
Today we had a day away from the school. We got the train to Poznan, which is the nearest city. It has some very beautiful old buildings. We also found a great sweet shop where we they made the sweets in front of us and then let us try them!
The picture of the sunrise is the view from Miss Radcliffe's room, what a view! We are being very well looked after by all the teachers at the school, and have been trying to learn some Polish words. It is a very tricky language to learn though, so it is fortunate that many people here speak a bit of English and try to help us out.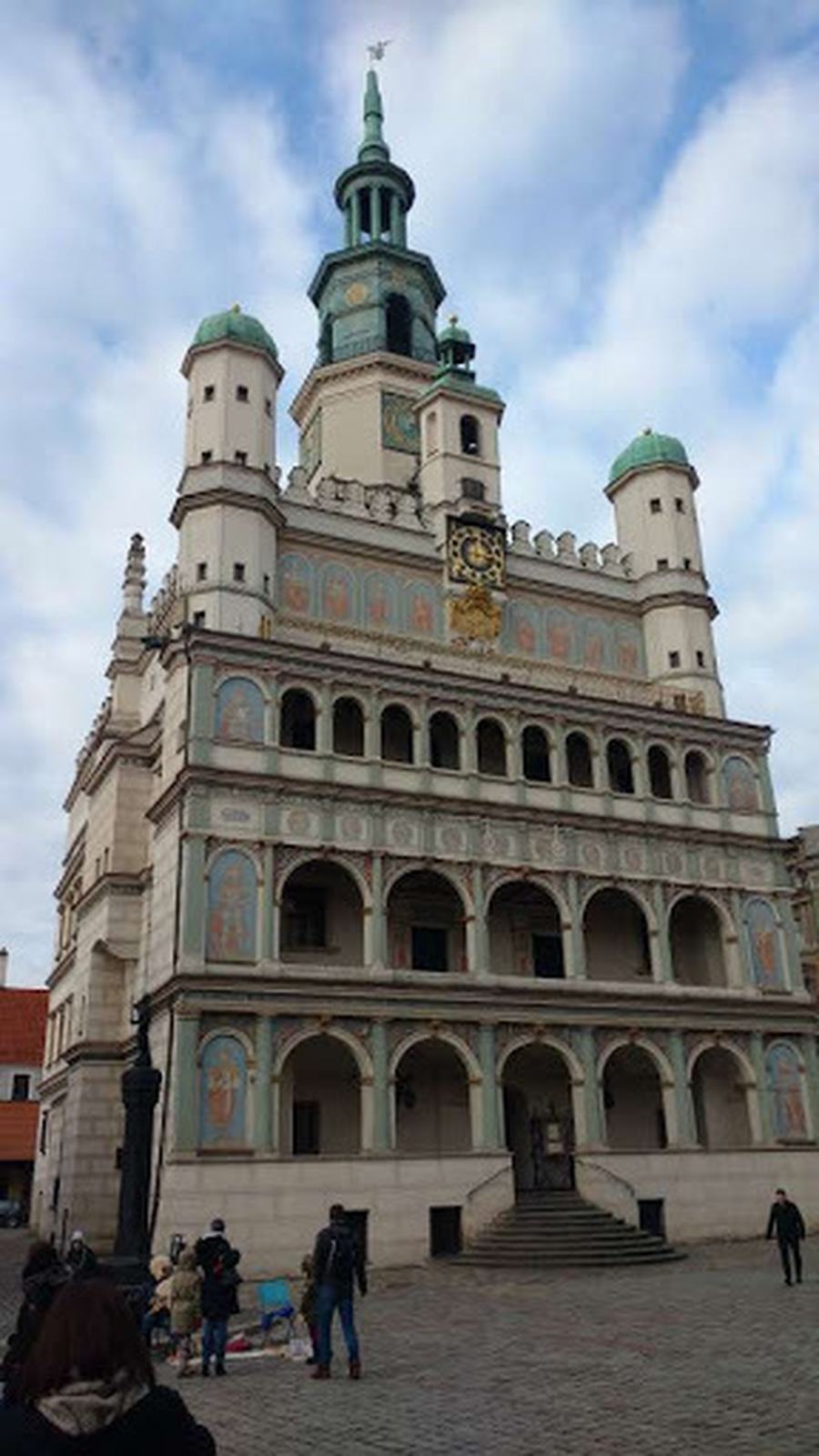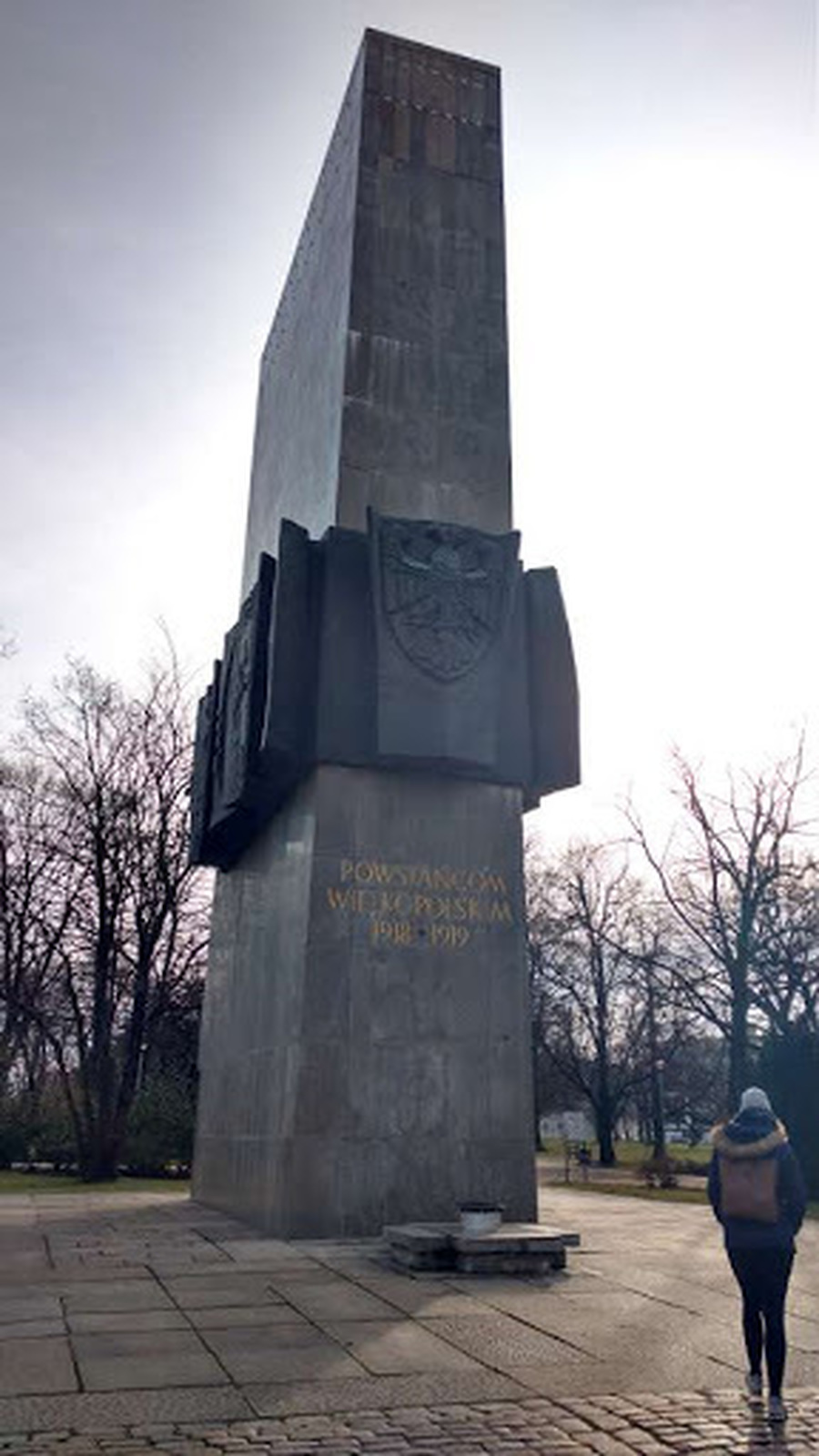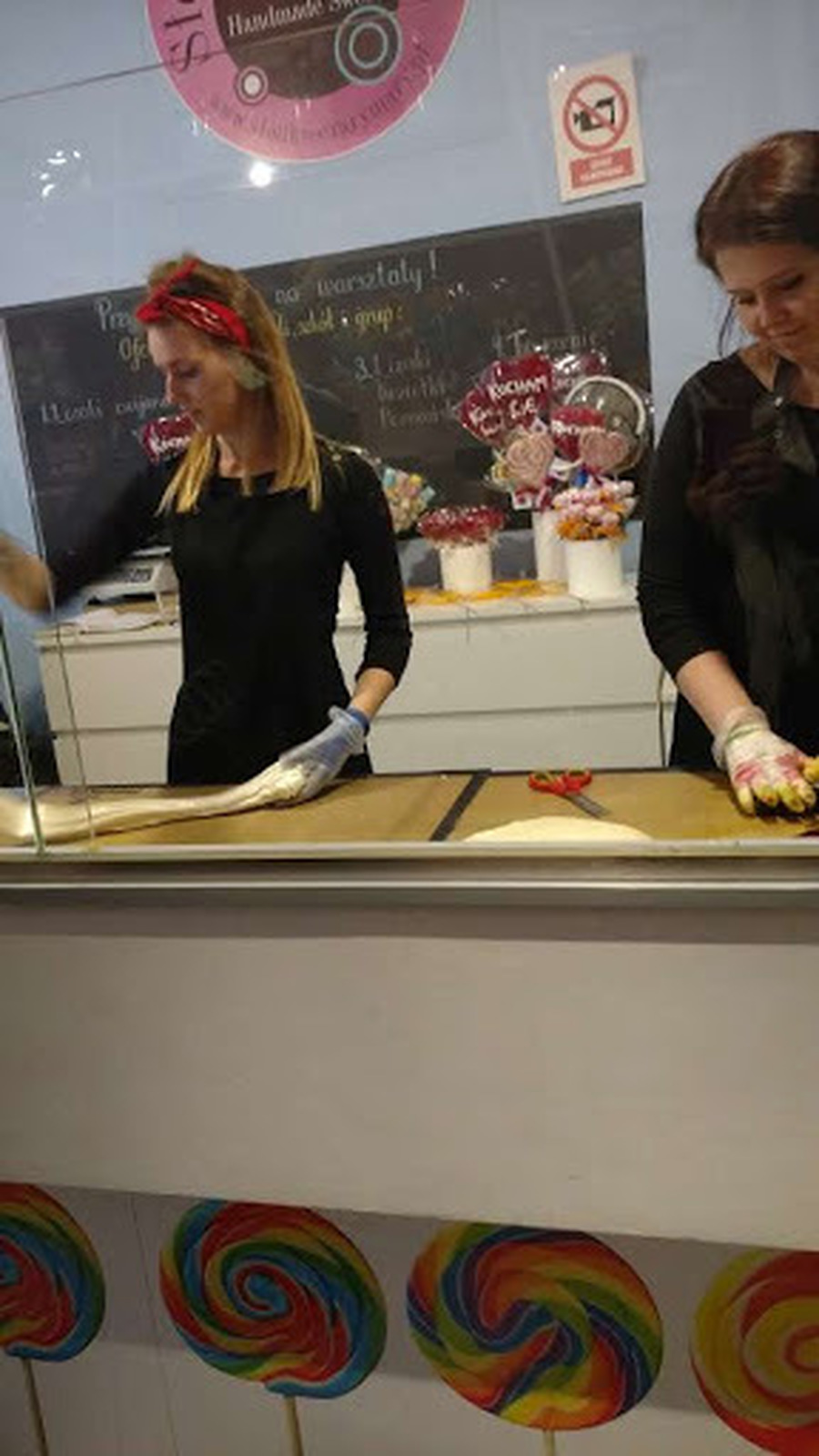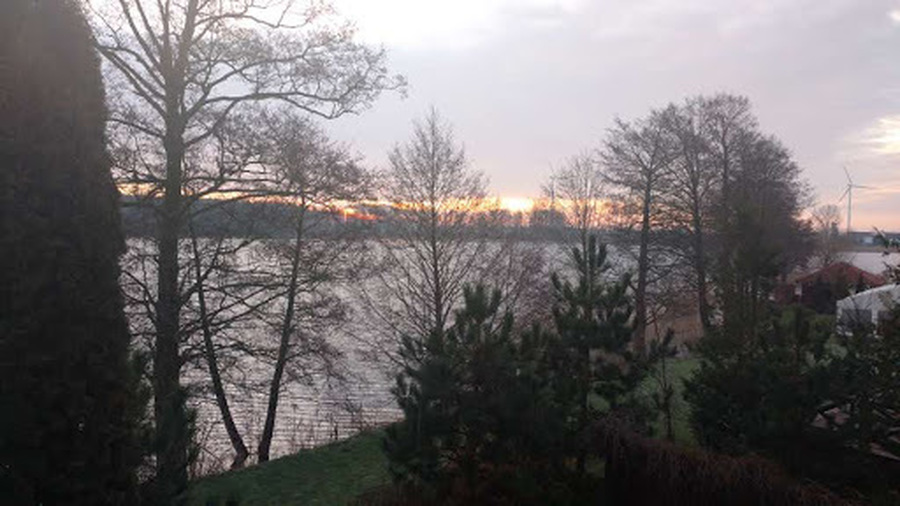 Day 4:
Today we are back in school. We have done some more work on the song we are learning and have recorded some Polish children singing their verse. It is sounding amazing! We have been trying to learn the words in the other languages as well so that we will be able to sing the whole song with you when we come back to England. We have also been in the classrooms again telling the children about our school. Class 7 children taught us a Polish game too. This afternoon all the teachers from the different countries will be having a workshop about children's rights. We are having a great time, although we are missing you all!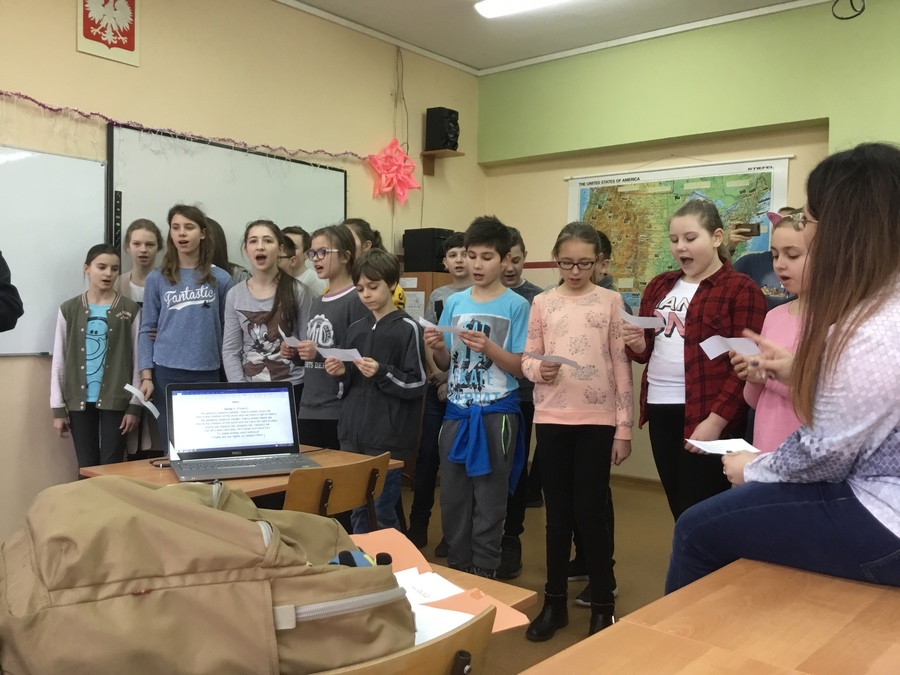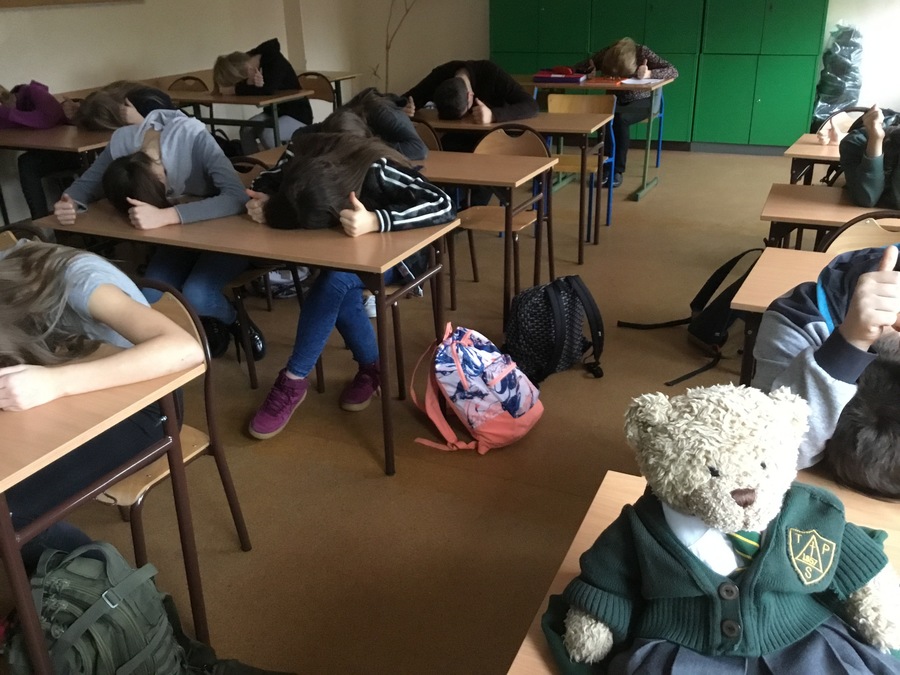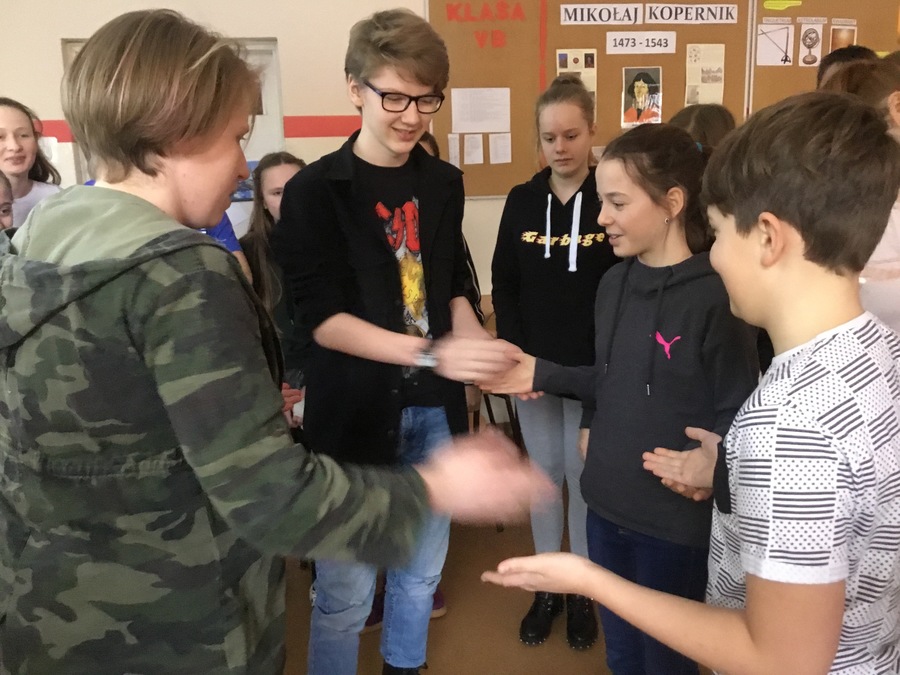 Day 5:
Our last day! The week has gone so quickly. Today we are in the school again and everyone is looking very smart because it is a special day for the school. They are named after a Polish astronomer, Nicholas Copernicus, and this is the day that they celebrate him (their 'patron's day'). We will be taking part in a special assembly which will be almost 2 hours long!
This afternoon we will be visiting 'Alpaca Land', we keep driving past the alpacas on our way to school so we are excited to go and see them close up. Yesterday afternoon we visited the beach by the lake. It is a very beautiful location and they even have a little water park area, although this is closed in the winter. They do lots of water sports on the lake such as wake boarding and water skiing. It is very scenic around here, but very flat!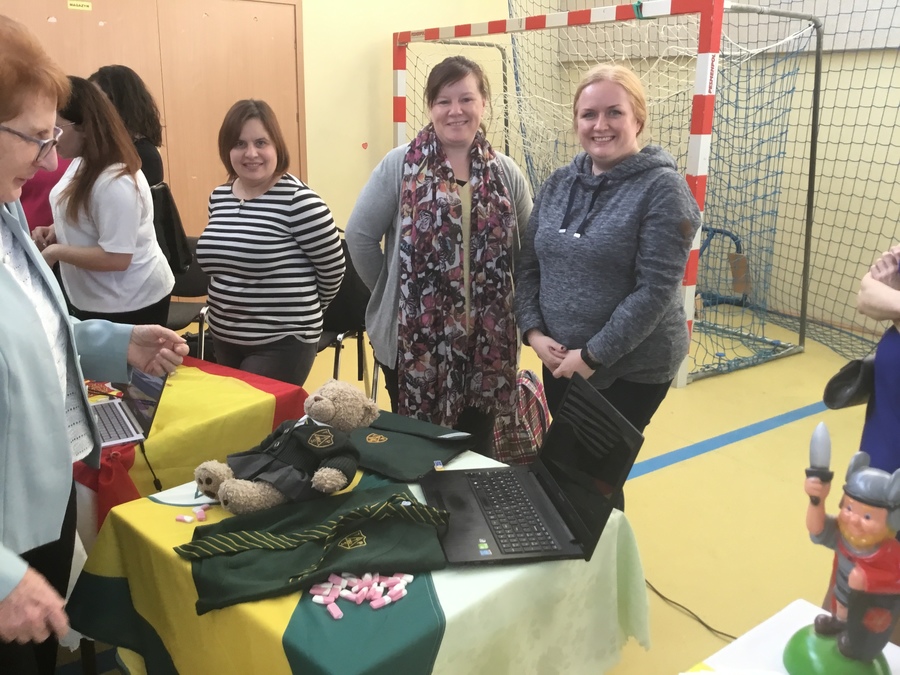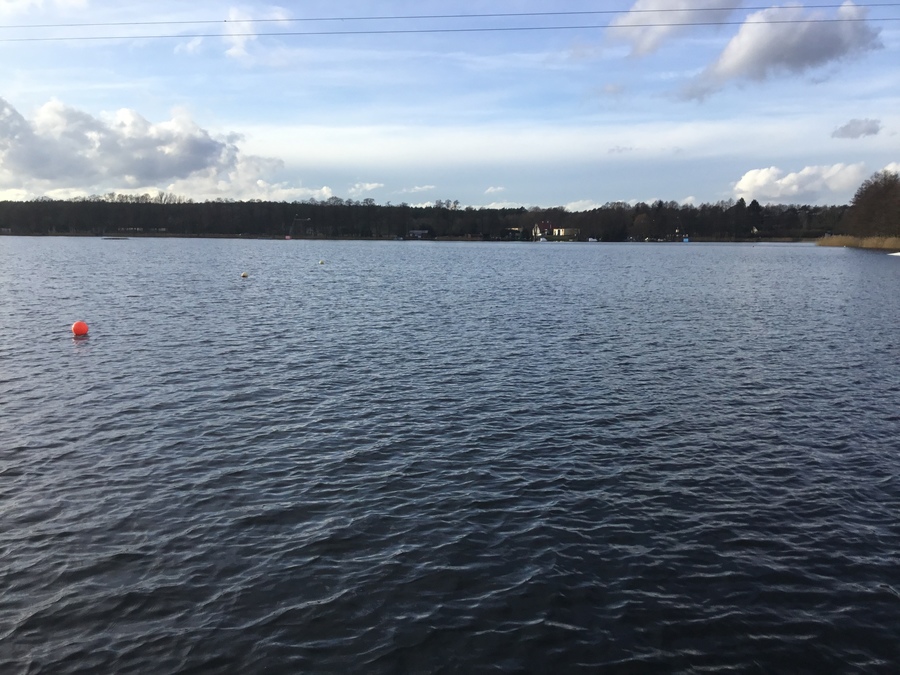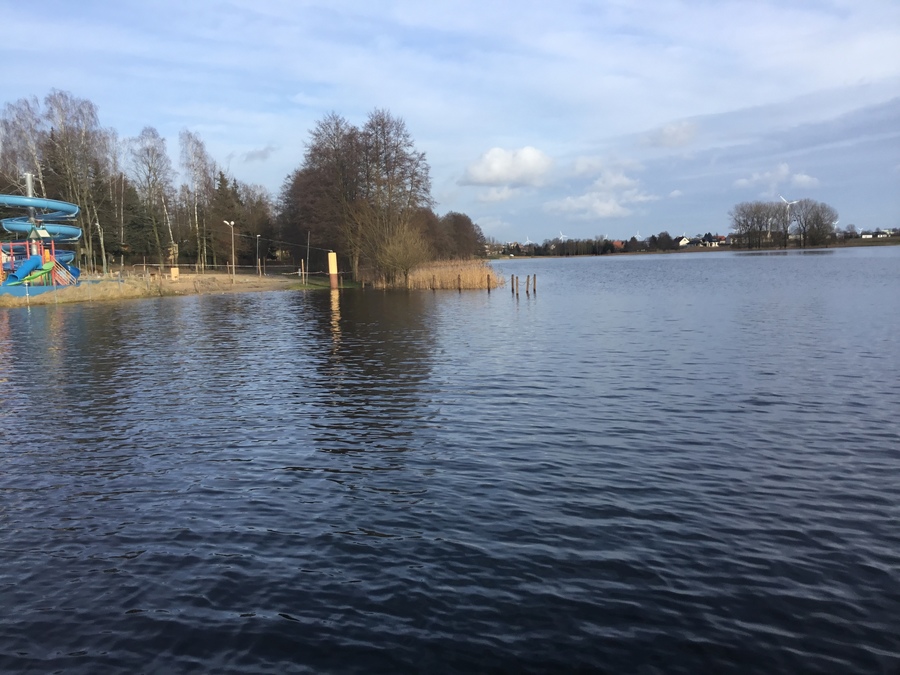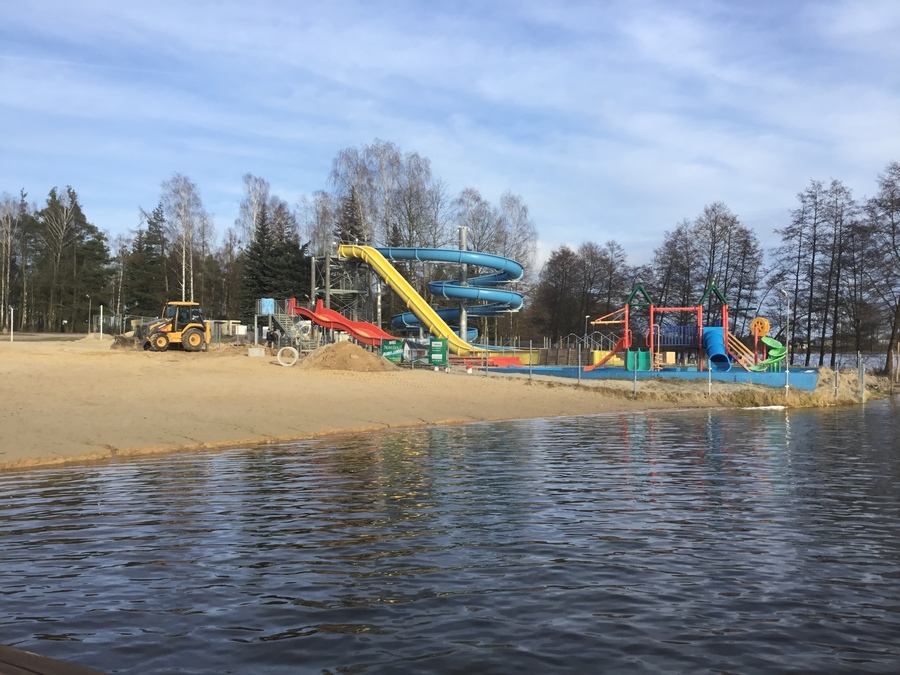 European Project: Visit to Spain
Mr Davies, Mrs Barlow and Miss Tynan went to visit La Salle school in Northern Spain. We worked with the children teaching them some English songs and poems, and enjoyed learning all about Spanish schools, customs and (particularly in Mr Davies' case) food!
Here are some pictures from our trip:
Mrs Crossley and Mandy Bear Visit Sri Lanka
Mrs Crossley has gone to visit the staff and children of Badi ud Din Girls' College in Sri Lanka. If she has time, Mrs Crossley will keep us all up to date with what she has got up to. Enjoy!
Saturday:
Hope Mandy Bear has a good sleep tonight. Must remember the sweeties for the flight. See you in three weeks :-)
Monday:
After a long journey with an unexpected detour. We have arrived in beautiful Kandy. Being met by the beautiful Shamali was the icing on the cake. Off to St Anthony's School this morning. Mandy bear and myself are so excited. Mandy has some new playmates. Dora the Explora from Old earth School & the lovely Ruby from Bolton Brow.
Tuesday:
Looking forward to our visit this morning to Badi Ud Din Girls College. So excited to seeing the children and the many teacher friends I have made.
Feeling Proud!! :)
Tuesday:
Lovely visit to Badi Ud Din Girls College. Our children did us proud!! :))))
Wednesday:
Our visit this morning to Trinity College Kandy was super. The English play performance in the hall was amazing. Many thanks to the wonderful children and staff for all their effort. The new extension to the school since my last visit is super.
Thursday:
Feeling giddy.
Today Tim Helen & myself are going to see the elephants. I'm so looking forward to it. I will be on elephant watch the whole journey.
We are travelling by train, then Lal our super driver will pick us up. I know I will drive everyone crazy saying "are we there yet"
By the way have I mentioned I'm going to see the elephants!! :))))
Friday:
All good things come to an end. Magical moments to share & treasure.
Have a happy Easter holiday everyone.
See you soon X :)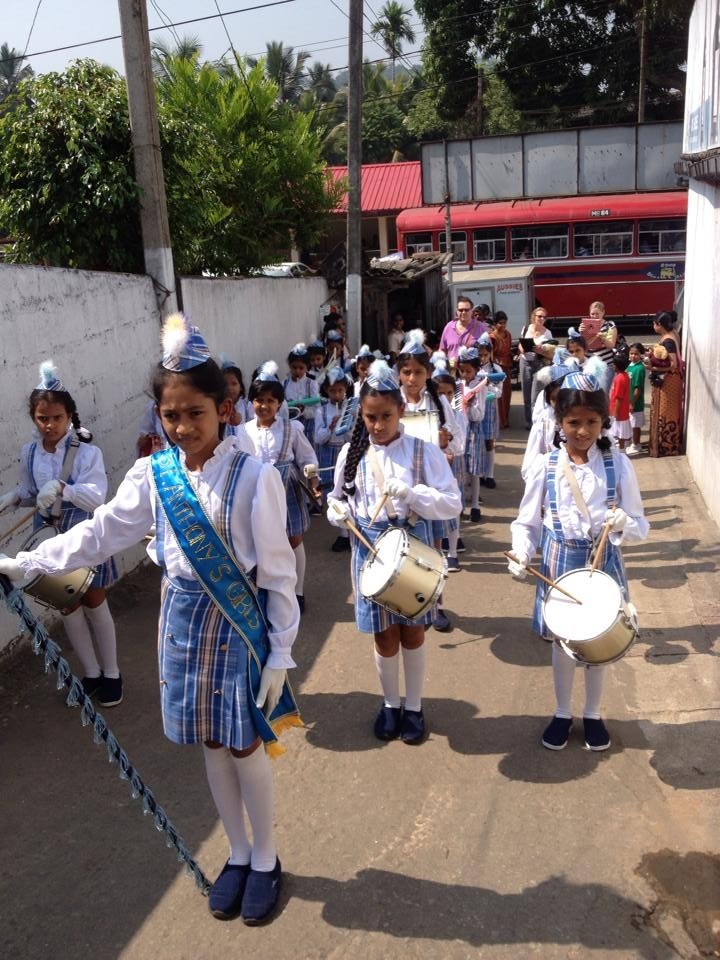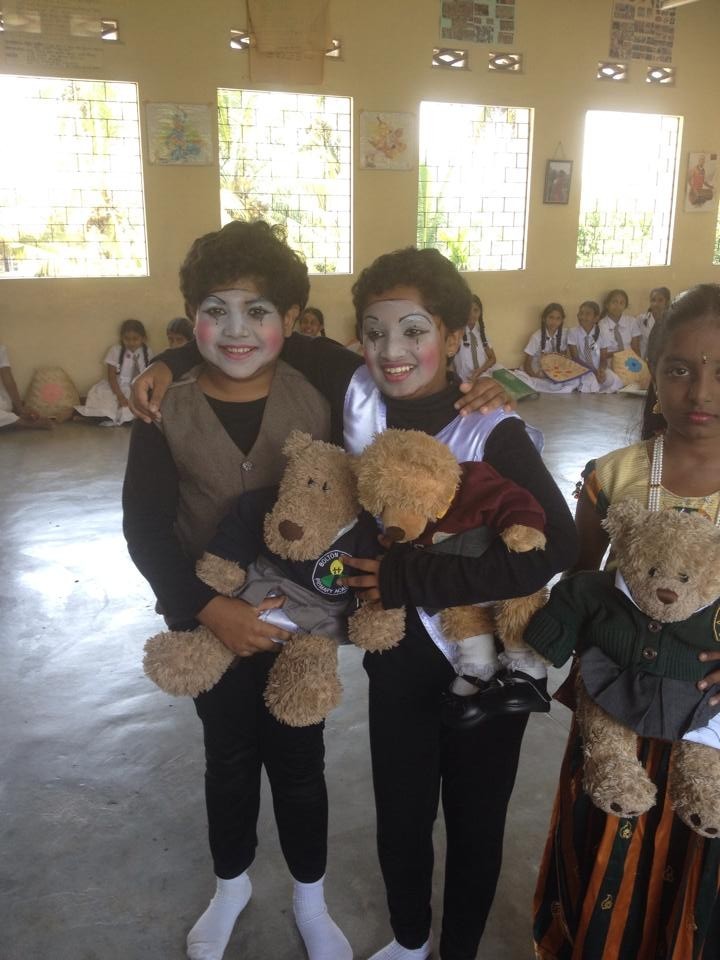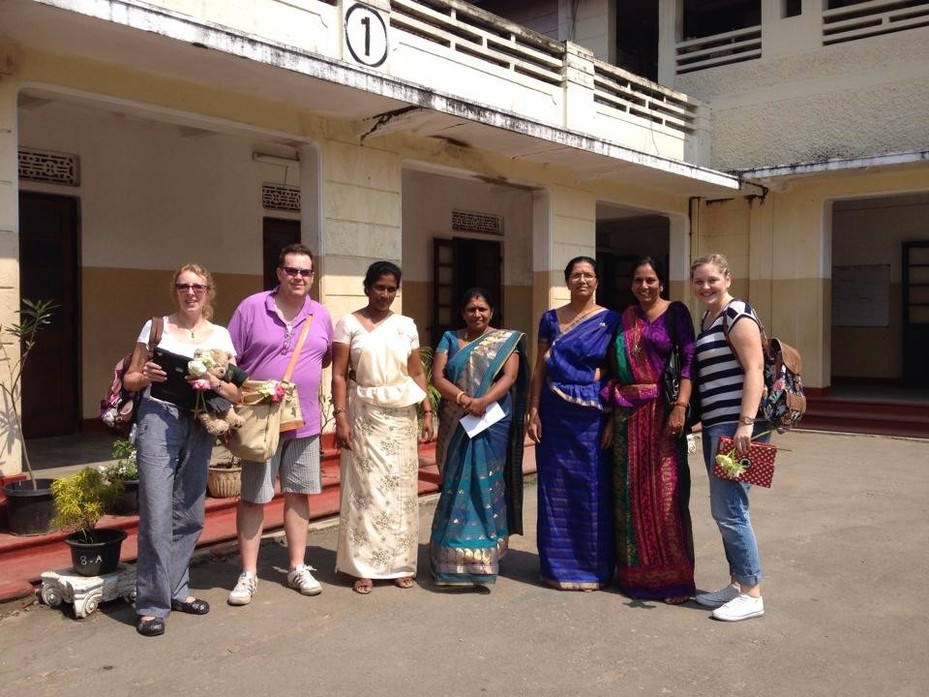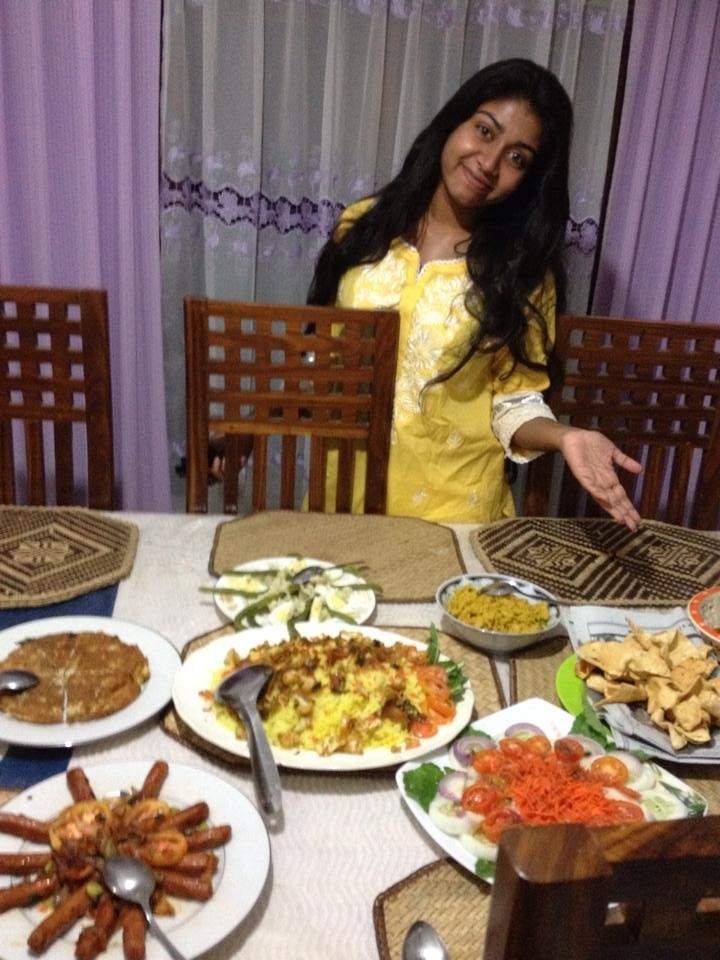 Over recent years, Triangle has developed our links with schools in several other countries. Our work in this area has been recognised by the British Council and we were awarded their 'International School Award' in 2007 and again in 2010!
European Links
We have just completed our latest European Links Project. This project lasted for two years and the theme was 'Knowing me, Knowing you'. The schools involved in this were:Christian Morgenstern Schule,Detmold, Germany; St Paul's National School, Limerick, Ireland and Bolton Brow, Sowerby Bridge, England! Unfortunatly some of the other schools that have been involved in previous projects and a couple of new hopeful countries have not been granted permission to be involved, however we do hope that we are able to maintain links with our friends from around the world.
Through this project we hoped to identify and develop the children's perceptions of foriegn countries, people and cultures. They produced newsletters, videos, cards and MP3 recordings of songs to share with our friends and also received similar items from our partner schools. This work helped foster stronger links, improved their knowledge and understanding of the world and built upon their ICT, Art and Literacy skills through meaningful communication.
The project also enabled staff to visit partner schools, enhancing their professional development opportunities through observing lessons, learning about systems and policies in other schools and being given the opportunity to teach lessons and activities in another setting. In addition, we set up video links to enable staff and children to communicate during these periods.
Please click on the links below to visit our partner school's websites.
| | |
| --- | --- |
| | Bolton Brow Primary Academy has been involved in all of our European projects so far. They are situated just down the road at the other end of Sowerby Bridge. |
| Christian Morgenstern Schule has also been a school who has been with us from the beginning of our links. It is a school for children with Special Educational Needs in Detmold. | |
| | St. Paul's National School is a large primary school near Limerick. They are another school who have been involved in all our projects to date. |
Our history in Europe
We already have established links with schools throughout Europe. For several years we have worked on projects called 'Happy Ever After' and 'Healthy Ever After' with schools from England (Bolton Brow), Germany, Spain, Ireland, Slovenia, the Czech Republic and Poland. It has been a great way to provide proffessional development opportunities for our staff as well as engage our children in worthwhile projects.
First Europe, Then the World! Our Partner School in Sri Lanka
We have also linked with our partner school in Sri lanka for several years. Our partner school is Badi ud Din Girls' College, an all girls Muslim school in the city of Kandy. This link enabled us to work on joint projects and exchange work. It also allowed teachers from Badi-ud Din to visit us and for our staff to go to Sri Lanka. Their most recent visit here was in October 2014, where Fahira gave a whole school presentation on pollution and the environment and class presentations on Sri Lanka and its wildluife. Fahira also gave a cookery demonstration and spent time in each class allowing children to discover more about life in Kandy.
You can find flags like the ones used on this page by visiting www.3dflags.com