Special Educational Needs and Disabilities (SEND)
Welcome to our SEND information page. Hopefully you will find everything that you need. Should you require any additional information please contact our Inclusion Manager and SENDCo, Miss Steele. This can be done in person at school, via the office – 01422 831558 or via e-mail – senco@triangle.calderdale.sch.uk .
School Vision
'Stand firm in the faith; be courageous, be strong. Do everything in love'
Intent
At Triangle we are committed to Inclusion; the pupils are at the heart of everything that we do. Every individual should have their needs met within a safe, accessible and caring environment.
We believe that the journey through school life should be enjoyable, memorable and valuable. We strive to provide a broad and balanced curriculum for all that is inclusive and engaging so that regardless of need individuals thrive and achieve their potential. The curriculum is inspiring, creative and progressive; a rich blend that provides the children within our care with a good knowledge and understanding base, as well as a strong skill set.
Our core values of friendship, trust, courage, forgiveness and compassion form the heart of our provision. We are proud of our inclusive and nurturing approach. We celebrate strengths and the things that make us unique, whilst identifying and targeting areas to improve. When additional needs are identified we have a clear pathway for individuals to refer to. For those whom require additional targeted provision then they will be added to our SEND register and an individual learning and development plan (ILDP) of assess, plan, do and review cycle(s)will be implemented. Every teacher is a teacher of special educational needs. Therefore we endeavour, as individuals and as a team, to meet the needs of each person through reasonable adjustments and targeted approaches. All of which is done in collaboration with pupils, parents, staff and where appropriate external services.
Positive learning behaviours are encouraged and promoted to enable pupils to get the best out of each and every day. We promote high expectations and aspirations from all individuals. Everyone is encouraged to contribute positively – to our school, the local community and beyond. We believe that this combination enables pupils to succeed now, in the next phase of their learning and for future success. Our goal is for individuals to be all-rounded, life-long learners.
Aims
To comply with Special Educational Needs and Disability legislation and adhere to the Local Authority's local offer
To ensure that children with SEND are identified, assessed and their needs are met through the curriculum, additional provision and resources in order for them to thrive and strive for their potential. We aim to promote early identification and intervention for SEND to ensure that progress and opportunities are maximized.
To make reasonable adjustments and provide appropriate resources, provision and / or support to enable all of our pupils to access the curriculum and participate fully in all aspects of school life, including but not limited to trips, workshops and clubs. We ensure equality of opportunities for all.
To raise the aspirations and expectations of all individuals to achieve their potential in terms of their personal, educational, emotional and social development, to be independent and successful.
To work in partnership with pupils and parents / carers to ensure that their ideas and views are an integral part of SEN decision making processes. Ensuring that parents / carers have a clear understanding of how to school supports pupils with SEN and their own involvement in this.
What are Special Educational Needs and / or Disability (SEND)?
Children have SEND if they have a learning difficulty that calls for additional educational provision to be made for them. Children have a learning difficulty if they:
Have a significantly greater difficulty in learning than the majority of children of the same age.
Have a disability that prevents or hinders them from making use of educational facilities of a kind generally provided for children of the same age in schools within the area of the local authority.
Are under compulsory school age and fall within the definitions above or would so do if special educational provision was not made for them.' (Code of Practice September 2014)
There are four broad areas of SEND. Some children may have needs in one or more of these areas, these are:
Communication and Interaction
Cognition and Learning
Social, Emotional and Mental Health Difficulties
Sensory and/or Physical Difficulties
At Triangle we use the terms SEND and additional needs.
Please click on the links below for more information.
Accessibility Plan – We have a number of access facilities for our pupils with SEND. When designing the new building and considering access options around school, we have carefully considered the needs of our current and future pupils and staff.
SEND Information Report 2023 – Our offer provides information on the provision that we offer at our school. It links with Calderdale's Local Offer.
Calderdale's Local Offer – Calderdale's Local Offer provides information about what different services are available in the area.
SEND – A DfE guide for Parents and Carers
Useful Links
SEND web links for home learning – A really useful document full on interesting and useful online activities and resources for SEND. I will add to these as I find them and if you already use some websites please let me know about them.
Supporting Pupils at School with Medical Conditions
SEND Focus Awareness – September 2022
This year we have celebrated being unique.
Each class teacher planned and delivered a focused session on an area of SEND. Each class then rotated around the experiences. At the mid-point each class came back together to discuss what inclusion means to them and to design a school SEND logo. We had very positive feedback from pupils, parents, carers and staff.
The areas that we focused on pertinent to our school were:
Social, emotional and mental health
Communication and Interaction – Autism
Physical Needs – Equipment and access
Sensory Needs – Vision and Hearing
Cognition and Learning – Dyslexia and Dyscalculia
Should you be interested please call into school and ask to look at our collage book.
Autism Awareness Day
Last year we celebrated Autism Awareness Day in lock-down. We had planned a day of learning, research and celebrations in school but due to Covid-19 we asked families to get involved at home this year. Please see the comments and photographs below to find out what our pupils have been up to.
One family said – I had to design a flower that resembled me and who I am and what I think my flower would look like. It was easy to design most of the flower like my hair colour and my size but I had to think about my petals as they were the main part of my flower.
Mum asked me to think about something that makes me who I am and I felt because I have autism and it affects me every day I should use the Autism logo as my petals.
I am not sad about having autism I am proud of how hard It makes me try my best every day.
CB's family said – My cousin has autism so it was only right we would have a talk about autism and make a poster. We are super proud of him and the progress he is making in reception class in a school in Sheffield.
MZ's family said – As it is autism awareness day we took the opportunity to talk about diversity and how everyone is different and that's ok. We also talked about how being kind to everyone is very important! We made the flower from all our hands that are different but if we put them all together we can make something beautiful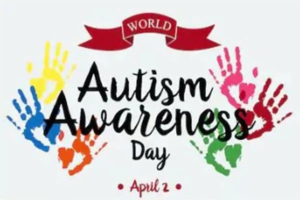 SEND Focus Awareness Week
Prior to the week two pupils wrote me a letter to ask if they could teach other children about blindness and dyslexia as these needs were close to their heart. Both pupils led a session alongside a class teacher to share their knowledge, understanding and experience. Other sessions included epilepsy, anaphylaxis and sudden death (all medical needs within our school population), physical needs (every pupil accessed sport in a wheelchair), being unique, social, emotional and mental health and dyspraxia.
The assembly was about 'what makes me me?' and embracing our vision to celebrate our unique ways and differences. We remembered that not all disabilities and additional needs can be seen. We also reflected upon how our word are like seeds.. 'Words are seeds they do more than blow around. They land in our hearts and not the ground. Be careful what you plant and careful what you say'.
As part of our focus awareness week one of our home activities was to design a logo that represented SEND. We had over 140 entries for the competition. Pupils, parents and staff then voted for their favourite and our winner was… Ellie!!! Congratulations! Her design can be viewed below.